Welcome to IHKAButtons.com...
If you own a BMW E39 5-Series (1996-2003) or E53 X5 (1999 - 2006), your climate control buttons are eventually going to crack, break, fall out, or possibly even get sucked out by a vacuum cleaner. Perhaps you're here because they're already cracked, broken, or missing...
BMW will only sell you the entire set of buttons at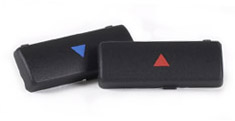 a cost of $125 or more. Why should you pay that much just to replace a broken button or two? Now you have a more cost effective alternative; Order just the buttons you need right here at IHKAButtons.com. You'll get OEM BMW Buttons at a fraction of the cost of the entire set. Installation is -- literally -- a snap.